Macrame and Wooden Teethers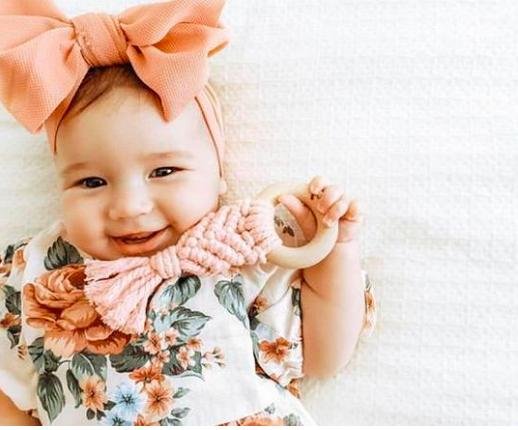 Organic Macrame and Wooden Ring Teethers
Our beautiful Bubba Bump wooden teethers are just what your little cherubs need to soothe that horrible teething pain that comes with growing up. Organic and eco-friendly, your baby will love the relief it brings and you'll love the peace and quiet when bub is more comfortable. A beautiful addition to any baby shower gift for expectant parents and their baby, organic macrame teethers are a truly thoughtful and helpful item to purchase.
Organic macrame teethers for soothing and safe baby teething
Teething is an inevitable part of a baby's growth and development. It can be a challenging time for both babies and parents, as teething can cause pain, irritability, and sleepless nights. This is where teethers come in handy. Teethers are designed to provide relief for teething babies and toddlers, soothing their sore gums and providing a much-needed distraction.
While there are many types of teethers available in the market, wooden teethers are a great alternative to plastic teethers. Made from eco-friendly and natural materials, wooden teethers are safe for babies to chew on. Plus, they are durable and long-lasting, making them a great investment for parents. So, give the gift of comfort and relief to your little one with our ever so sweet wooden teethers.
Shop online for organic wooden teethers at Bubba Bump 
Your teething baby deserves the very best, which is why we've curated a collection of organic wooden teethers at Bubba Bump. Our teethers are carefully crafted from high-quality, safe materials that are gentle on your little one's gums and provide much-needed relief from teething pain. If you're looking for a thoughtful gift for a baby shower, maternity leave gift, or for when the baby begins teething, wooden teethers are an ideal option. 
If you're looking for more baby gift options or clothing and accessories to upgrade your little one's wardrobe, look no further than Bubba Bump! Our expansive collection is designed to provide both style and comfort for your little one.
FAQs
Are macrame teethers safe for babies?
Handmade from 100% cotton and beech wood, Bubba Bump's teethers are safe and a great alternative to plastic teethers. In addition, our untreated teething rings are non-toxic and AS/NZS ISO 8124 certified, making them completely safe for little ones to chew on to their heart's content. Please note that babies should be supervised at all times when using the teethers. Refer to our care instructions for further information about using and maintaining teethers.
Can teething babies chew on wood?
Teething babies can safely chew on wood if it is a specifically designed wooden teething toy that is made from safe, non-toxic materials and is designed to meet safety standards. 
When does my baby need to start using a teether?

Babies can start using teethers as early as 3 months old when they begin to show signs of teething. However, every baby is different, and some may not start teething until later. It's best to keep an eye out for signs of teething, such as increased drooling, irritability, and gnawing on objects.

Our material is 100% GOTS organic cotton with cotton polyester infill.