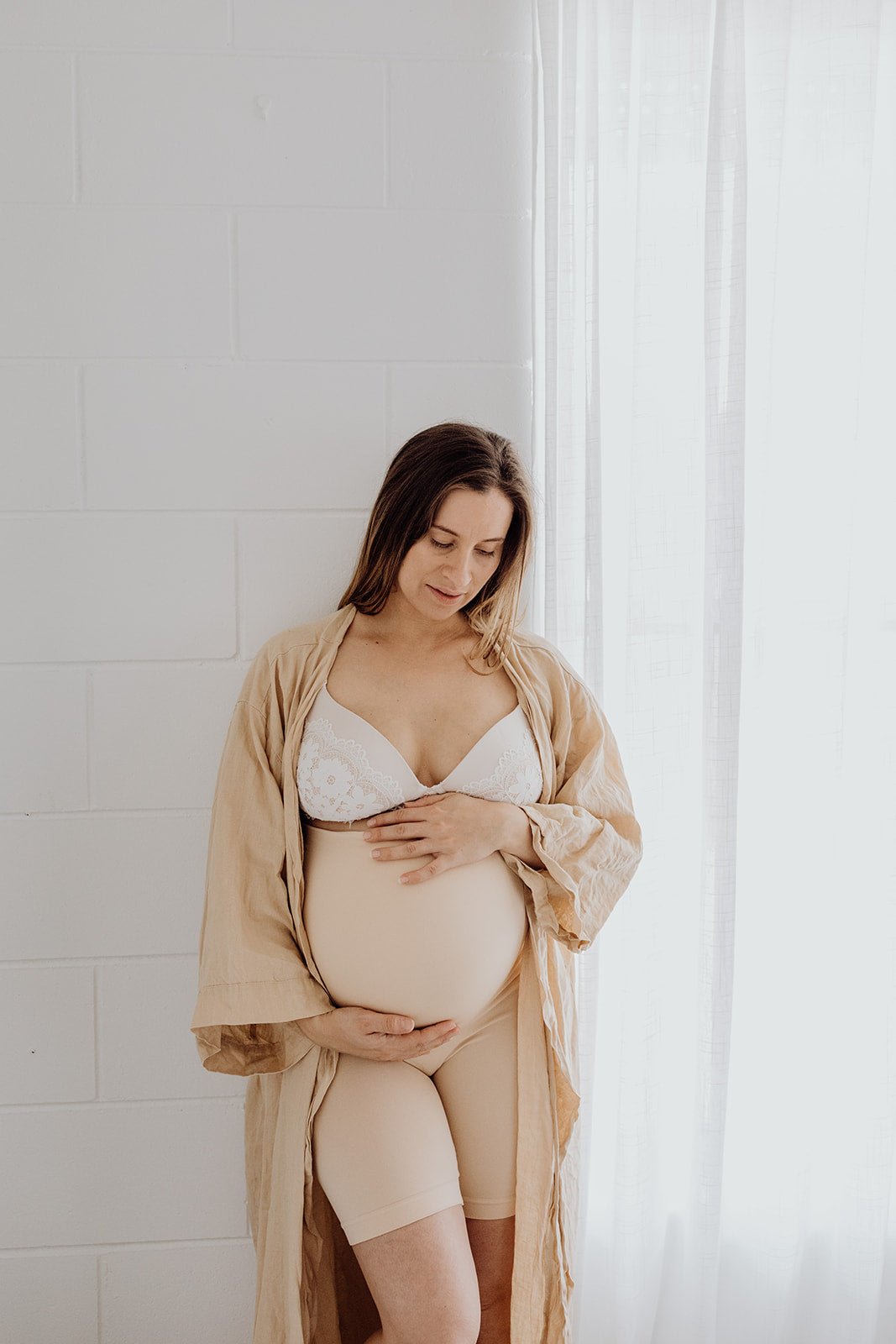 Postpartum recovery support wear shorts
We know that motherhood is an incredible journey, but it's also a challenging one. On top of the rollercoaster of emotions, you also need to deal with the physical changes while caring for a newborn. Speed up the healing process with our postpartum recovery support wear shorts. Designed to assist new mothers in the recovery phase following childbirth, our shorts offer targeted support to the abdominal and pelvis areas.
Whether you have undergone a C-section or are experiencing postpartum discomfort, our maternity support shorts will help you reclaim your comfort and confidence.
The benefits of postpartum recovery wear
Our Postpartum Support Wear shorts are an essential to help you heal and recover after birth. Made from nylon and spandex, they are super soft and breathable against your skin. The mid section gentle and targeted compression helps postpartum conditions such as: 
- Lower back Pain
- Abdominal Separation (Diastasis Rectus)
- Perineal tearing and episiotomy wounds
- C-Section Wounds 
Women have been wrapping up their torsos after delivering babies for thousands of years. Japanese women wear a "sarashi", Latin women bind themselves with a "faja" and Malaysian women use a "bengkung"
Applying a gentle compression to the belly after delivering your baby provides support to stretched out abdominal muscles, helps your uterus contract, can reduce back pain  (especially those with C-sections and abdominal wall separation), helps rid your body of excess fluids and helps pull your hips and ribcage back into their pre-baby position.  The greatest benefit comes from binding during the first 8 weeks postpartum, when the hormone levels of relaxin are still very elevated. It's a no brainer: gentle compression is a win win. 
It is so important to focus on the physical benefits of postpartum compression wear. Postpartum compression can aid in back support, help with muscle memory, provide support during breastfeeding, and decrease pressure on the back and legs. Abdominal compression also speeds up the recovery process after C-section surgery.
Does postpartum shapewear work?
Women have been wrapping up their torsos after delivering babies for thousands of years. Japanese women wear a "sarashi", Latin women bind themselves with a "faja" and Malaysian women use a "bengkung". In more modern times, postpartum recovery shorts have emerged as a blend of tradition and modern technology, offering new mothers targeted support for quicker healing. 
Designed with the latest compression technology, these shorts focus on providing optimum support to the abdominal and pelvic regions, which is especially beneficial after a C-section or natural childbirth. They help reduce swelling, improving blood circulation, and correcting posture, all while offering the comfort needed in the postpartum period. Just like their traditional counterparts, postpartum recovery shorts aim to make the journey into motherhood as comfortable and beneficial as possible, acknowledging that maternal well-being is a critical part of newborn care.
How to wear your postnatal compression shorts
Open up the leg holes and carefully slide your feet through them, just as you would with regular shorts. As you stand up, gently pull the shorts upwards. Make sure the fabric smoothly covers your abdomen, reaching up to just below your ribcage. The material should sit comfortably above the incision site, not on it, to prevent any discomfort or irritation. Finally, adjust the shorts so that they offer snug but not constricting compression. You should feel supported but not restricted.
What size should you get? 
It is normally pretty safe to go by your rough pre pregnancy size if you have put on just 'baby'. If you have put on some baby weight (which is completely normal) think about sizing up accordingly. Our beautiful model wears a size 10
Remember that they are a compression garment, so they are meant to be a very firm fit. The shorts stretch, and the compression acts as a fantastic support to aid you while you recover and heal. 
If you want to wear them during pregnancy, size up to accommodate your beautiful bump. 
As with all things pregnancy, seek medical advice if you are unsure of anything. Always consult your doctor before using any compression garments. 
Be sure to check out the full postpartum range at Bubba Bump, which includes maternity and postpartum support leggings, nursing bras, and postpartum underwear.

---
Free shipping on orders over $24
Free EXPRESS shipping on orders over $99
Postpartum recovery support wear shorts
Quality
Rated 5.0 on a scale of 1 to 5
Design
Rated 5.0 on a scale of 1 to 5
Comfort
Rated 5.0 on a scale of 1 to 5
Must have product

These shorts are absolutely amazing! Super supportive and they are extremely comfortable. I got one during pregnancy and after birth I had to order another one as I loved them so much! Thanks for these awesome recovery shorts

The shorts I didn't know I needed

I was gifted these and I have worn them almost every day of my postpartum recovery. They're supportive enough to feel like they're holding you in but don't suffocate you. I wear them under loose pants and absolutely love them. Would definitely purchase again or gift them to a friend.

THE HUG I DIDN'T KNOW I NEEDED

These post-partum shorts are incredible. I have just purchased a second pair because I'm wearing them daily! They really are the hug I needed for my c-section, I feel like I can laugh, cough, even blow my nose without pushing a pillow into my belly. Highly recommended ladies, the band they gave me in hospital was okay, but these really do take support to the next level.

Amazing!

Bought these after I had purchased a belly band (regret) to help aid in my second c-section recovery and these are amazing!! I received these and put them on straight away - blown away by how quickly I was able to get up and walk properly after being in pain. The compression is great and the sizing is true to size. Would definitely recommend to other mums and mama's to be ♥️

I do not recommend this product

Sizing

Was excited when I saw someone share this but then saw your sizing isn't very broad for plus size women. A little disheartening that I won't be able to purchase from you despite really wanting too. Why should we have to miss out?
Reviews Loaded
Reviews Added