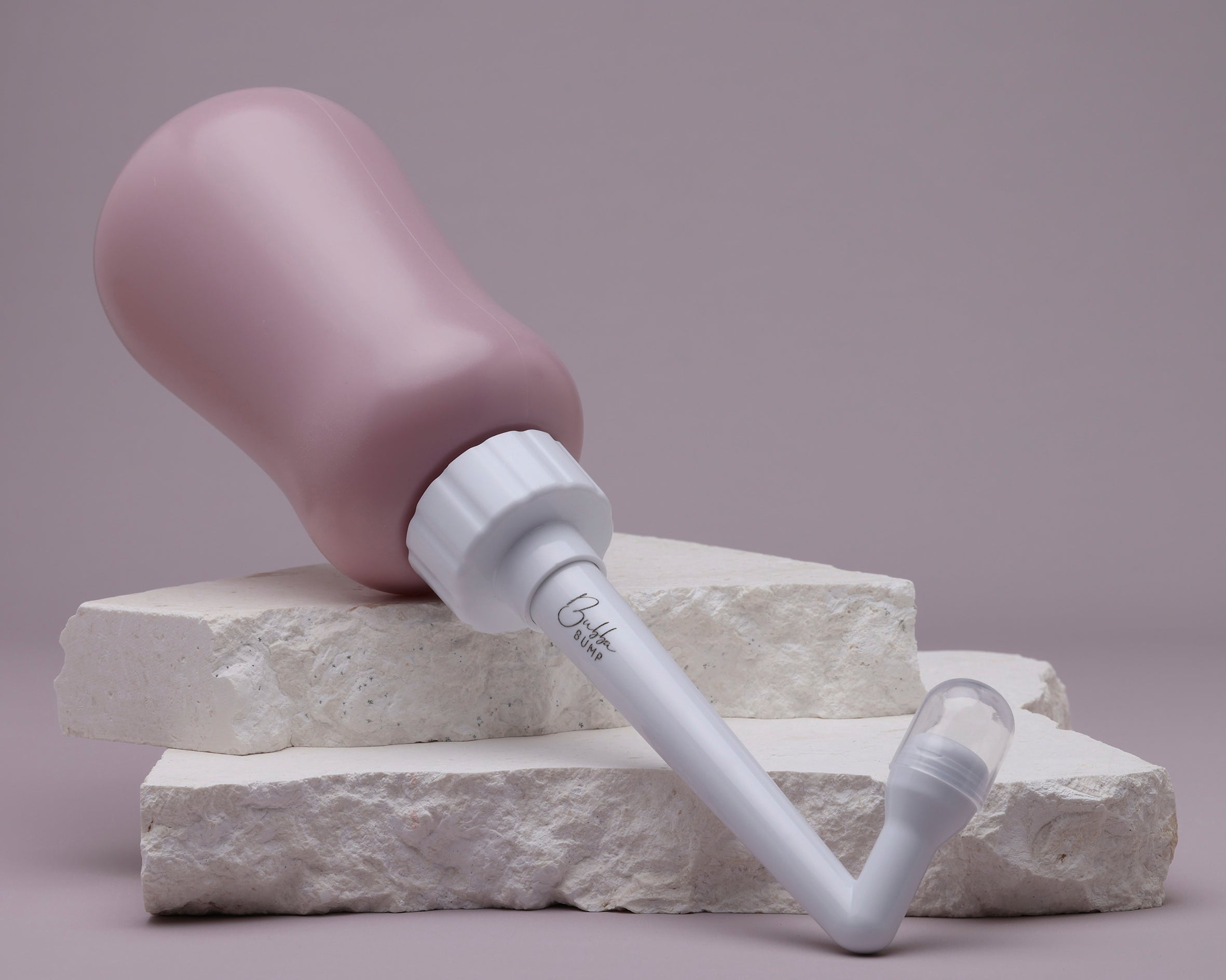 Upside Down 360ml Peri Bottle for Postpartum Healing
What is a Peri Bottle Used for? 

The peri bottle is used for rinsing your perineum with warm water after you give birth. The small holes in the spout give you a gentle spray of water – offering relief from that awful sting if you're recovering from a tear, have stitches or are swollen. 
We're not going to sugarcoat it: Your vag will be sore, possibly torn, possibly stitched, and peeing will make it feel like it's on fire.  Our Peri Bottle will be a LIFESAVER.
Do you use a peri bottle after C section?
The location of your incision makes bending over difficult and mobility limited, so have an Upside Down Peri Bottle to help with cleanup without putting pressure or soreness on the wound site. 
The Upside Down design is practical and includes a narrow neck for a targeted and continuous stream of relief to the intended spot. 
Healing Tip: add our Postpartum Bath Soak to your bottle for even more relief
Pack our portable peri bottle in your hospital bag and use it in that first post birth bathroom trip to make it less scary and easier, as well in the first few days and weeks after giving birth. Included is a carry bag for so it can be discreet.
Also great to use to help clean yourself if you have  haemorrhoids and during menstruation. 
**Please don't put hot water into the peri bottle and always test the temperature before use. 


Size : 360ml
Make sure you have this postpartum healing essential in your hospital bag mamas! 
---
Free shipping on orders over $24
Free EXPRESS shipping on orders over $99
Upside Down 360ml Peri Bottle for Postpartum Healing
Quality
Rated 5.0 on a scale of 1 to 5
Design
Rated 5.0 on a scale of 1 to 5
Comfort
Rated 5.0 on a scale of 1 to 5
A must have!

It's been a "must have item" for my post-vaginal birth. Easy to use and made of good quality. Delivery was very quick, arrived within then week of ordering.

Rosalie De l.

Verified Buyer

I could not live without this !

After i had my bub i was left with some stitches and using the bathroom was a NIGHTMARE ! The peri bottle saved my life (almost literally) and made such a difficult time so much easier will definitely be holding onto mine for future use.

Great product

Very handy device that helps us mummas with our recovery. Easy to use aswell.

Helpful

I was impressed with this product. It is good quality and easy to use. Nice and discreet with bag included.

Great for recovery here

Used this, paired with the withches hazel and post partum

underwear which really helped me for my recovery.

Highly recommend!
Reviews Loaded
Reviews Added