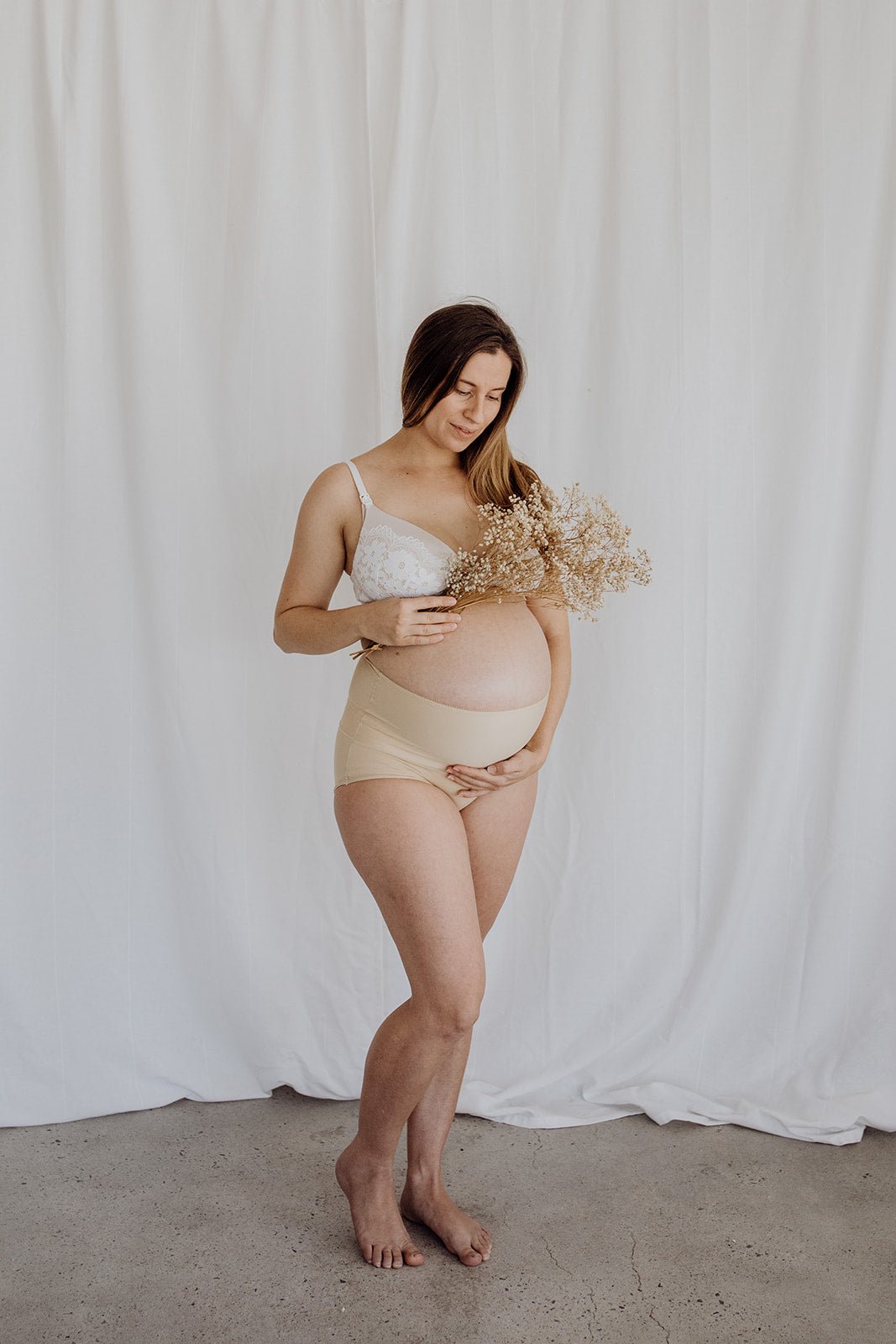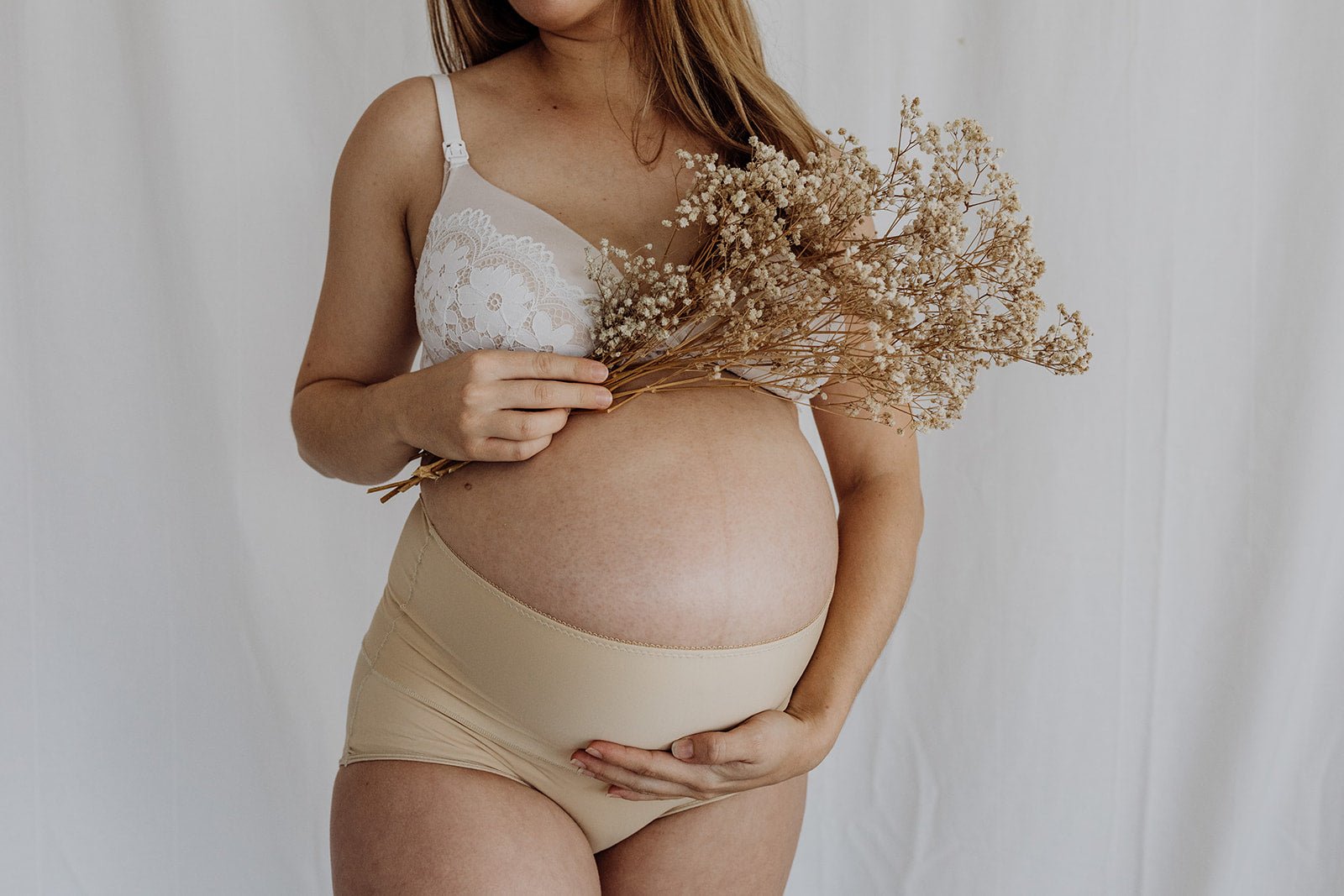 Like the hug you didn't know you needed, our bump-friendly maternity underwear is designed to make the early days of motherhood just that bit easier. Designed to offer unparalleled comfort and support, our comfortable maternity underwear features targeted compression for the abdominal and pelvic regions. 
Whether you've had a natural birth or a C-section, the multiple benefits of postpartum underwear make it an indispensable addition to your new mum toolkit, offering a seamless blend of functionality and comfort during this transformative phase of your life.
PLEASE REFER TO SIZE CHART AND CM BELOW for sizes. Returns will not be accepted due to wrong size. Please measure according to the size chart below 
Why you'll love our stretchy maternity underwear
Made from anti-bacterial, eco-friendly nylon, the bump panel on the underwear is perfect for post pregnancy. The elevated bump panel is not only breathable but also provides ample coverage for C-section healing, ensuring a snug yet comfortable support. This full-coverage design accommodates postpartum pads, making their use as cosy as possible during your recovery.
Please note that these have a gentle compression, meaning a nice and firm fit to support you as you recover and heal from childbirth. We do recommend sizing up.
Say goodbye to the paper pregnancy underwear: once you experience our high-quality prenatal and postnatal undergarments, you'll add to your collection.
Due to hygiene reasons, hosiery cannot be returned or exchanged. Please ensure you have measured according to the size chart.
Why you need comfortable maternity underwear
Maternity underwear is meticulously designed to meet the unique needs of pregnant women, offering a blend of comfort, support, and flexibility that regular underwear simply can't provide. Made with stretchable, breathable fabrics, this specially crafted underwear effortlessly accommodates the changing shape of your body, providing ample room for your growing bump. The higher waistband is purposefully crafted to sit above or below the belly, reducing pressure on the abdomen. 
Unlike standard underwear, maternity options feature generous leg openings, softer seams, moisture-wicking, and anti-bacterial properties. Our bump-friendly maternity underwear also minimises chafing and irritation, thus allowing for better mobility and all-day comfort. 
Overall, maternity underwear provides the targeted support and relief that pregnant women need, ensuring that the journey through each trimester - and beyond - is as comfortable as possible.
Shop our collection of prenatal and postpartum undergarments, including maternity and postpartum support leggings, nursing bras, and postpartum recovery shorts.
---
Free shipping on orders over $24
Free EXPRESS shipping on orders over $99
Quality
Rated 5.0 on a scale of 1 to 5
Design
Rated 5.0 on a scale of 1 to 5
Comfort
Rated 5.0 on a scale of 1 to 5
Just ordered another 2 pairs!

Just popped these on 6 days postpartum and they are so comfy! I usually hate having anything around my tummy. I am a g-string kind of girl. But they are flattering, feel supportive and make me feel more confident. I have just ordered another 2 pairs.

Postpartum Underwear

Great fit, really supportive after recent c section. High waist, thick fabric, easy wash and dry. Would definitely buy again

Must have!

Quality is amazing and they are super comfortable and supportive. They have really helped with my csection recovery- support wise. Other brands have got nothing on these. If you're thinking about getting them, do it. Wish I did sooner!

Amazing support and comfort

I got these after my first born and they were absolutely amazing. Definitely true to size and really helped with re-engaging my core muscles.

Impressed!

Love the quality, even my physio is impressed!
Reviews Loaded
Reviews Added