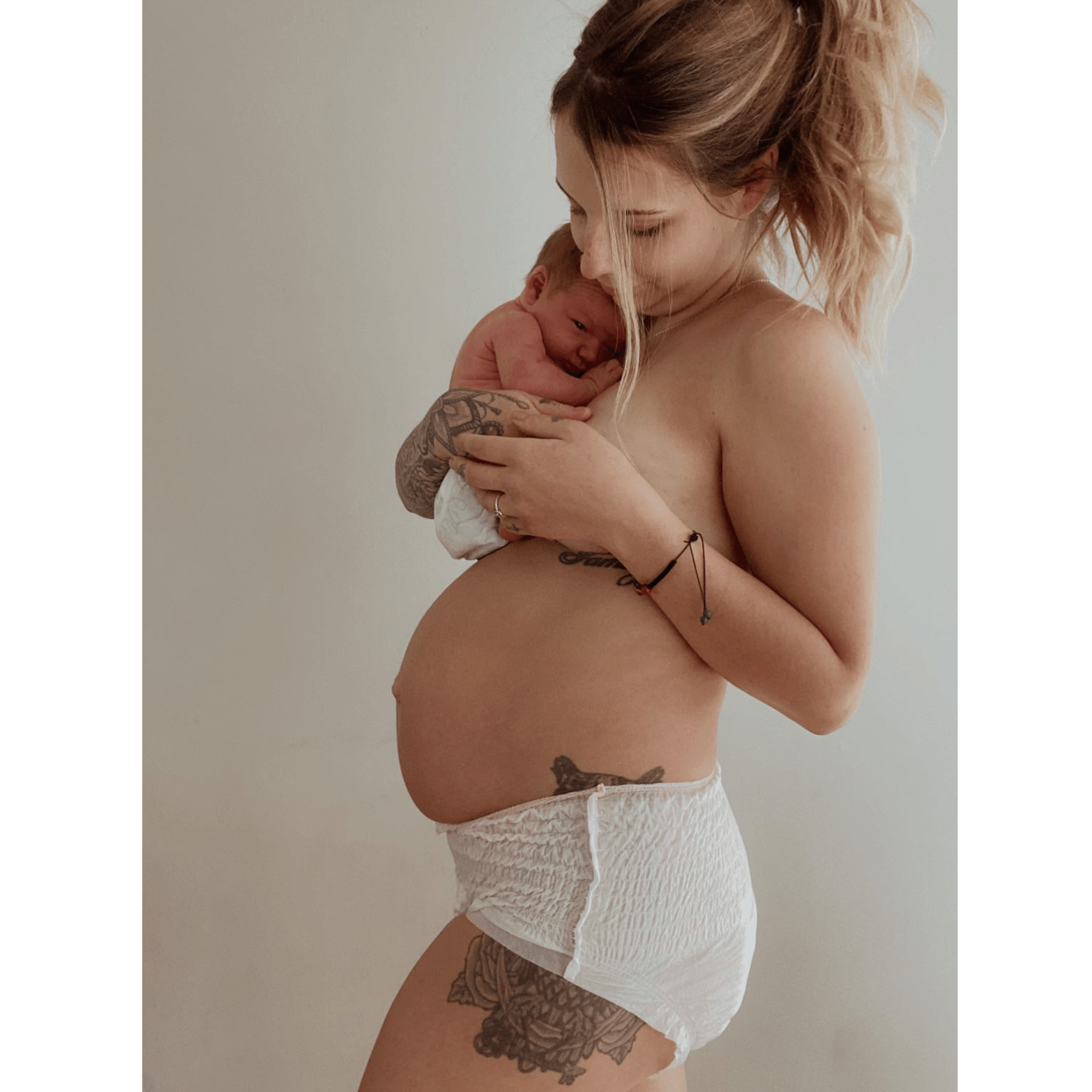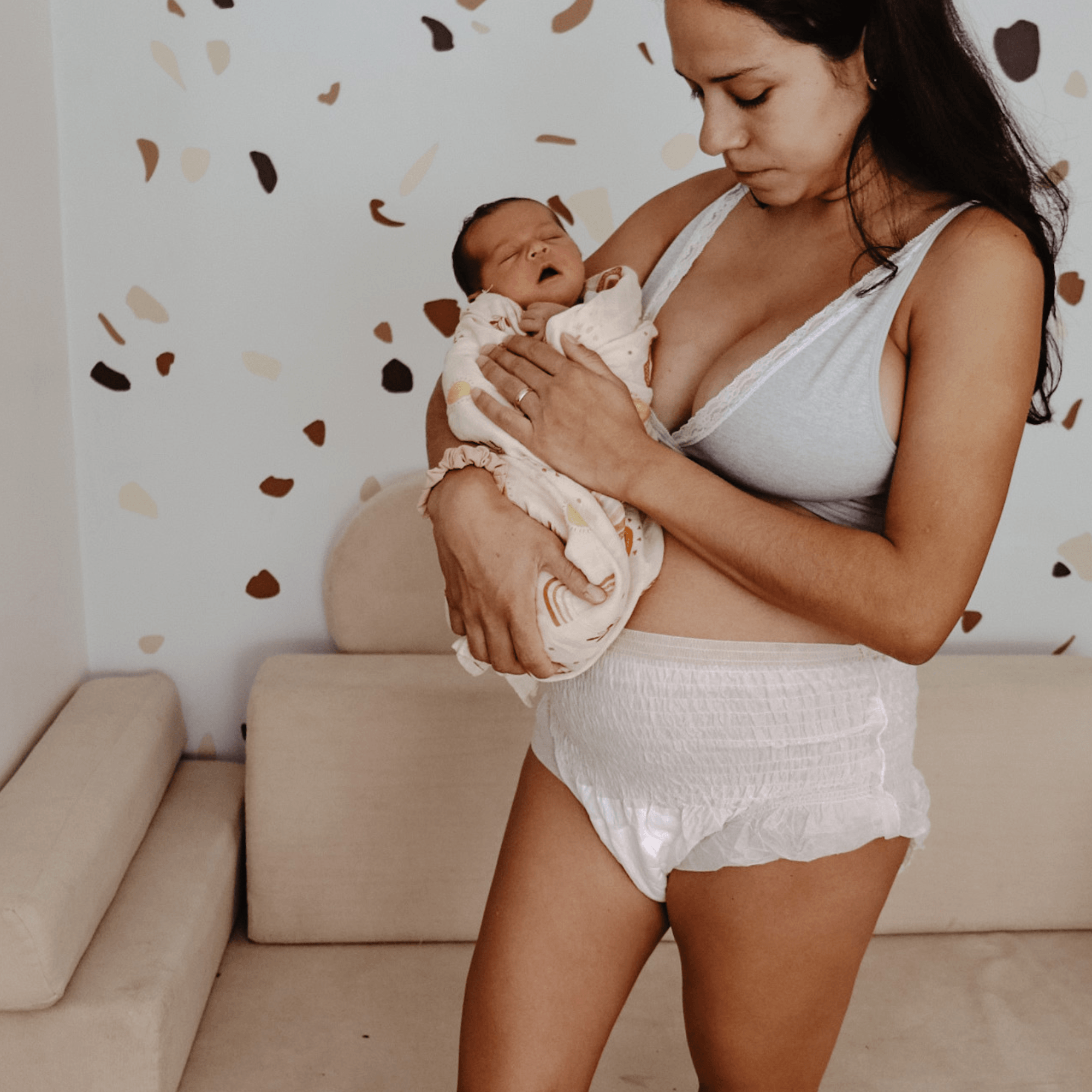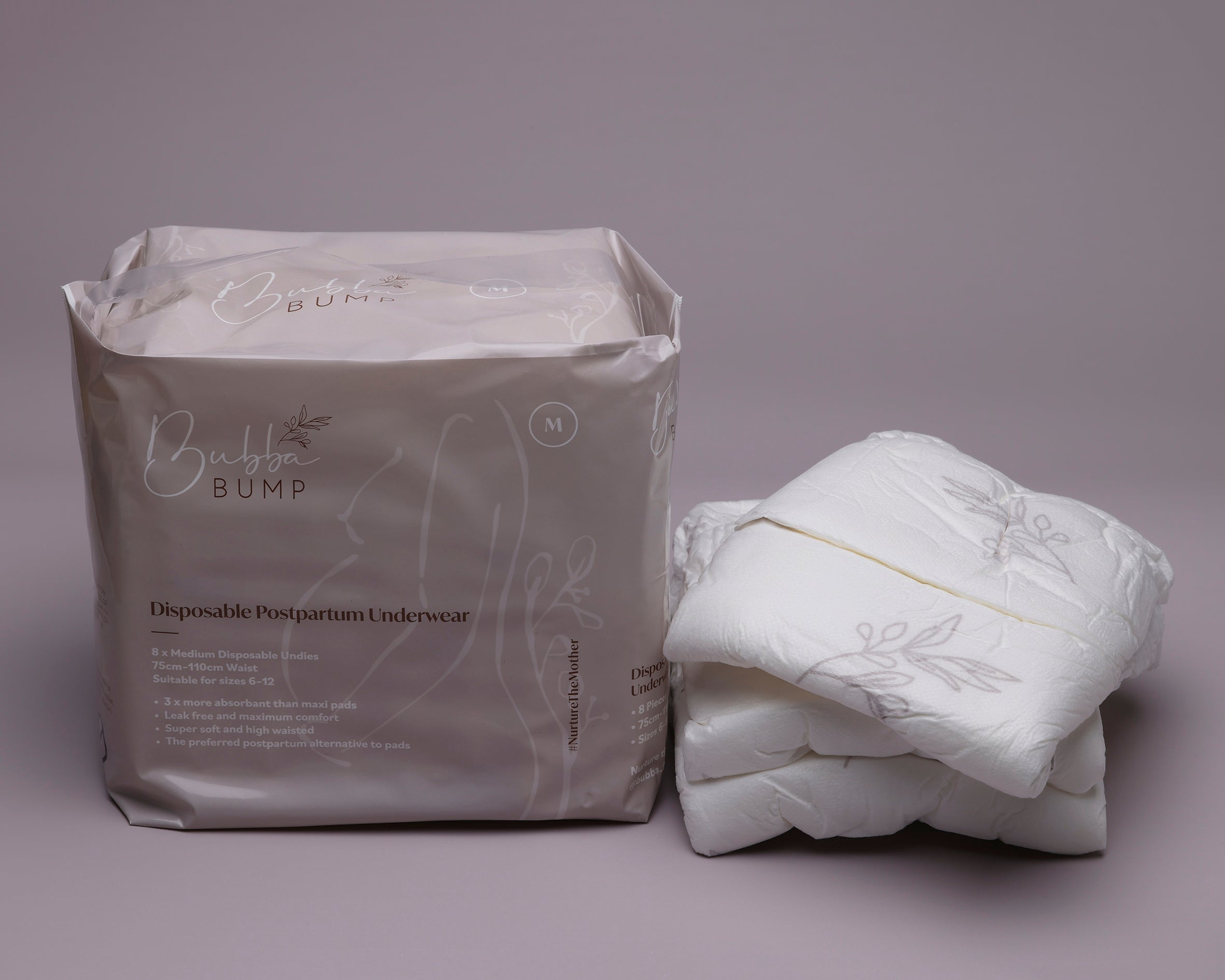 Disposable postpartum underwear
Each polybag pack contains 8 pairs of disposable postpartum underwear.
2 packs (16 pairs) is the recommended minimum for postpartum.
Disposable maternity underwear that eliminates the need for uncomfortable, awkward pads in your postpartum journey. Our postpartum maternity underwear is your answer to comfort in the post birth period. You can even wear them when your waters break! Designed for mamas and endorsed by midwives, you know this product is a hospital bag essential. 
Our postpartum disposable maternity underwear is leak free, super comfortable and leaves you feeling secure post birth. Perfect for the initial postpartum ( fourth trimester) and beyond. You can wear them in place of sanitary pads and/ or panty liners - a must for urinary incontinence, weak bladder muscles and pelvic core postpartum. Our postpartum underwear is a recovery essential!
Our disposable postpartum underwear absorbs blood, lochia, and can even be worn when waters break. They absorb 3X more than regular maxi pads and designed to be completely leak free. 
Perfect for both C-section and vaginal birth as they are high waisted and won't irritate c section wounds. 

Throw this maternity essential in your hospital bag now! Every mama (new and seasoned) needs this as a pregnancy, maternity and postpartum essential. 
Our maternity panties even tear at the sides for easy disposal once used. Tear and chuck! Just what you need for your third trimester when convenience and ease is everything. 
Our disposable maternity underwear is free from all fragrances and bleach.

Not sure what size to get? As a rough guide, size 12-20 should go Large and 6-10 Medium. 
Having a planned C section? If you are on the fence for sizing go Large as you will be swollen for a little bit after your C section 
---
Free shipping on orders over $24
Free EXPRESS shipping on orders over $99
Disposable postpartum underwear
Quality
Rated 5.0 on a scale of 1 to 5
Design
Rated 4.9 on a scale of 1 to 5
Comfort
Rated 4.9 on a scale of 1 to 5
Amazing!

These were amazing. I brought these for my second birth and they were so comfortable! Wish I'd invested in them for my 1st. I had a c-section and it made it more comfortable being up over it and covering my tummy.

Postpartum essential

Worse these in the first week of postpartum and they were such a great fit and so comfortable on my stomach. Would highly recommend.

A must have!

I absolutely loved these and wouldn't hesitate to recommend them, they are a must have in your hospital bag and are great for when you get home too! They are so comfortable, I had a c-section and they were perfect, easy to put on, take off, no rubbing on my wound etc.

Amazing!

I loved these so much for my hospital time and early at home days. So much simpler than dealing with pads.

Put on as soon as your waters break!

Loved these, so comfy & absorbent. As soon as my waters were broken these went on, the absorbency was amazing! Everyone else had complained about how their pads got soaked & were being changed constantly while I was comfortable & dry and needed minimal changes. For post partum these were again great, I lived in mine for the first week & it didn't even feel like I was wearing a pull up! I panic bought an extra 2 packets the week before I was due & I am so glad I did! Have recommended these to everyone.
Reviews Loaded
Reviews Added