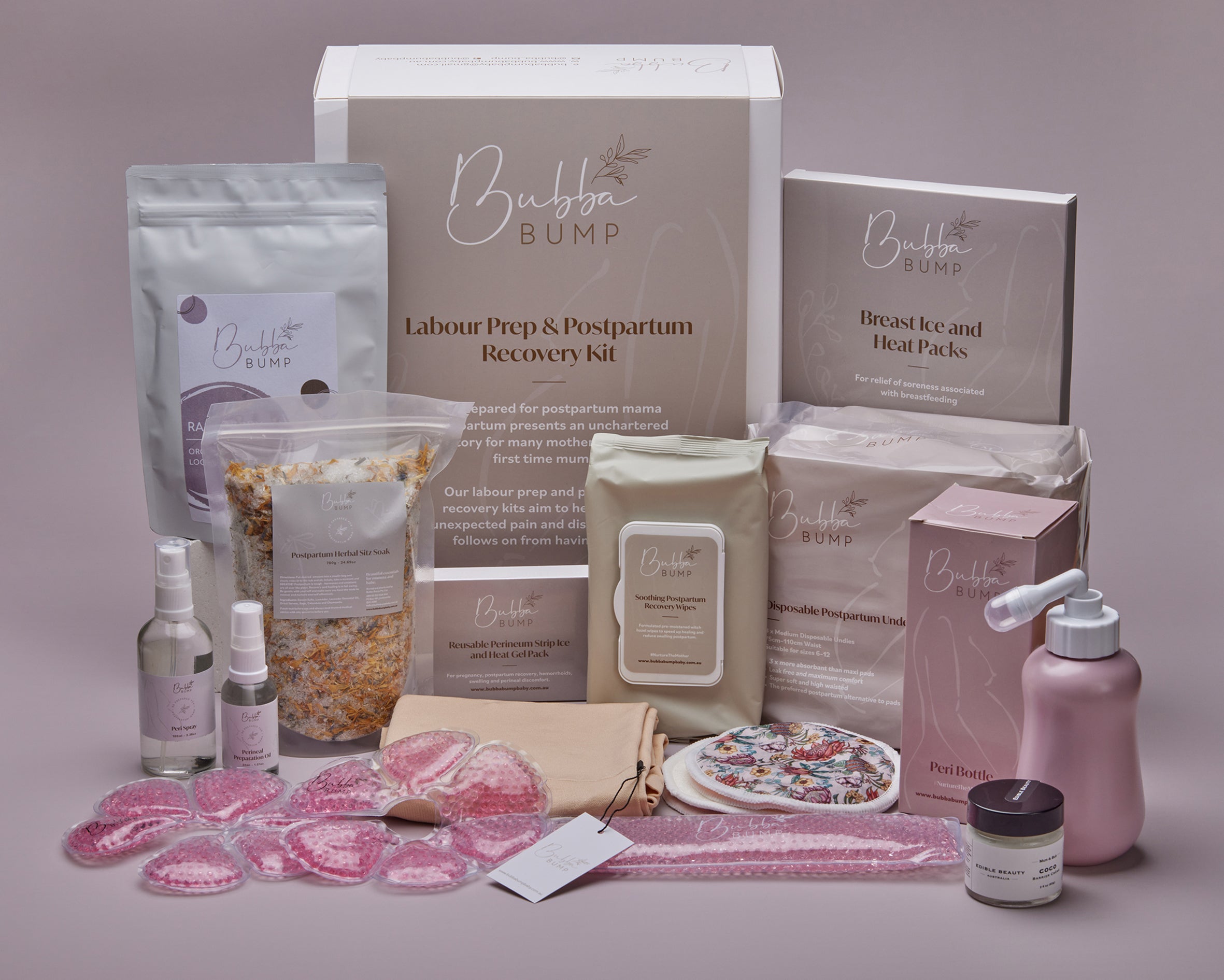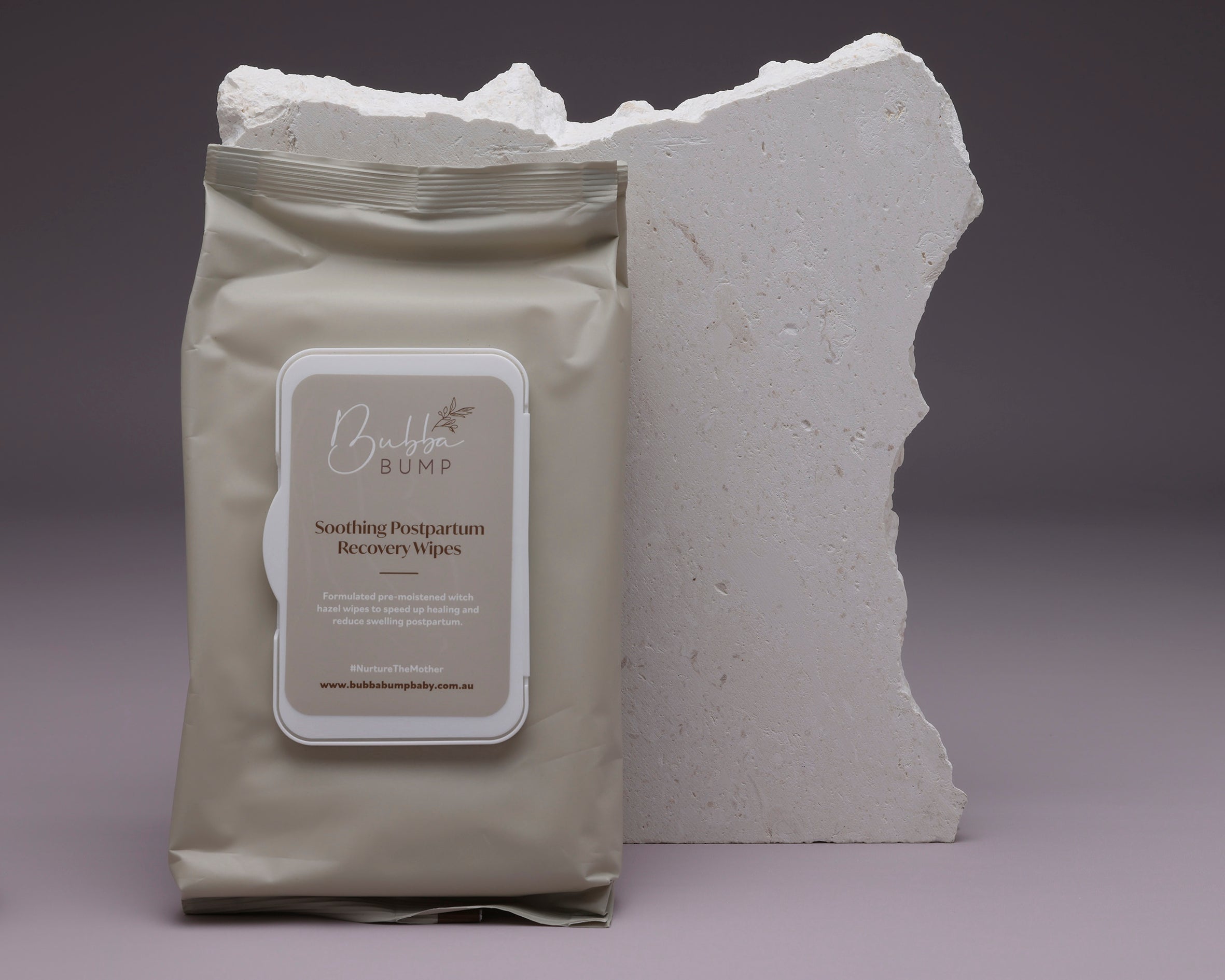 Labour Prep and Postpartum Recovery Box
Postpartum presents an uncharted territory for many mothers (especially first-time mums). Our labour prep and postpartum recovery kits aim to help ease the unexpected pain and discomfort that follows on from having a baby. 
Featuring essential support wear, comfortable postpartum underwear, and reusable breast pads, these postpartum care kits are the ultimate relief package for new mums in Australia. Alleviate some of those unexpected postpartum discomforts and focus more on bonding with your new bundle of joy. Discover how to bolster your postpartum recovery and embrace this beautiful new chapter with items that put your comfort and well-being front and centre.
Available in both Vaginal and C-Section options, our postpartum packs aim to cater for all mums. Please Note - if you are not knowingly going to have a C-section, we recommend you choose the Vaginal Birth Kit - this has everything that the C-section box has in it so that you will be prepared for either way of birth.
What's in our postpartum care kit? Over $400 worth of value 
Vaginal Labour Prep and Postpartum Recovery Kit
Peri Bottle
Nipple Cream
Certified Organic Raspberry Leaf Tea
Reusable Perineal Ice/Heat Pad with 5 x covers 
Reusable Breast Ice/Heat Pack with 2 x covers 
Perineal Relief Spray 
Perineal Preparation Oil 
8x Bubba Bump Postpartum Disposable Underwear
2 x pairs of reusable breast pads 
Postpartum Recovery wear shorts
Witch Hazel Healing Wipes
Postpartum Soak 
C-section Labour Prep and Postpartum Recovery Care Kit
Peri Bottle (as it can be hard to wash yourself post C-section (you may have also pushed before your C-section and be tender in the perineal area)
Reusable Breast Ice/Heat Pad with cover 
Perineal Preparation Oil for use on dry skin, stretch marks and on your incision once healed
8x Bubba Bump Postpartum Disposable Underwear (8 Pairs) 
Nipple / C-Section Cream 
2 x pairs of reusable breast pads 
Certified Organic Raspberry Leaf Tea 
Postpartum Recovery wear shorts 
Postpartum Soak 
Let's take a look in more detail at what each item does in our postpartum pack- 
Peri Bottle :
This little wash bottle container will be a lifesaver for your lady parts after birth. It's basically a squirt bottle that allows you to clean your bottom easily and gently after the delivery of a baby.
"Peri" is short for perineum, the area between your vagina and anus—also the place where trying to squeeze a watermelon out of a much smaller hole takes its toll.
We're not going to sugarcoat it: Your vag will be sore, possibly torn, possibly stitched, and peeing will make it feel like it's on fire. 
What happens after birth to the perineal area isn't fun, exciting or cute to talk about and often doesn't get discussed in childbirth classes or even before you leave the hospital.
So much focus and energy now goes to caring for your new baby; it's essential to talk about simple things to help your day-to-day healing become just a little easier on you.
How to use it
The bottle couldn't be easier to use. You simply fill it with warm water, and while sitting on the toilet, point the opened tip towards the region you would like to cleanse and squeeze the bottle to squirt the fluid over the region.
The best time to use it? While peeing. A lot of women experience burning during urination after delivery, so the bottle dilutes the urine, making it sting less. Start the stream of water, begin peeing, then continue the stream.
Wiping can be excruciating in the beginning; being able to rinse and dab dry is so much better. 
Should C-section moms use a Peri bottle?
The many benefits of this little bottle in our postpartum pack extend even to moms who didn't have a vaginal birth.
Your perineum may still be swollen and sensitive if you were in labour before your C-section. Even if your C-section was planned, it may be painful or difficult to bend over or reach to wipe because of the incision.
Perineal and Breast Heat/Ice Pads
As a new/pregnant mum, you need to prepare for your recovery in the weeks after having a baby and giving birth.
You will be pretty sore and tender in your vaginal/ perineal area!
If you're thinking about self-care after the baby, good for you! It can be easy to get so wrapped up in planning for your new arrival that you completely forget to plan for yourself and your healing process.
Postpartum healing will require a few tools to help soothe the pain, reduce swelling, and clean any tears or stitched areas. Postpartum ice packs reduce swelling and soothe sore spots — helping you feel more comfortable after childbirth so you can enjoy time with your newborn!
There are significant benefits to using ice packs specifically designed for postpartum women. 
Even after a vaginal birth without tears, the entire perineal area and rectum will be swollen, and you'll likely feel discomfort in the area for around three to five weeks. 
Perineal cool pads are essential for use postpartum to cool and soothe your perineum and help with any postpartum soreness you may experience.
When the perineum gel pad is heated, it can also be used while in the second stage of labour to reduce perineal tears and trauma when pressed against the perineal area (ask your medical team if you're unsure how to apply correctly) 
When frozen, the perineum strip perineal ice pack provides soothing, cooling relief to the perineal area, which may be irritated, swollen and tender from childbirth, whether or not you had an episiotomy.
The perineum strip perineal ice pack can also give instant relief from vaginal irritations and inflamed haemorrhoids or treat Symphysis Pubis Dysfunction (SPD).
After pushing the baby, you will be a bit swollen. If you need any stitches, you will be sore, which the heat/ice pads in our postpartum recovery kit can help.  
The Breast ice/heat packs can be warmed or cooled to assist with your breastfeeding journey.
The breast gel pads are designed to help relieve soreness associated with breastfeeding, blocked milk ducts and engorgement.
When heated, the breast pads can be used as a heat pack to help ease milk flow and blocked milk ducts. This can reduce the amount of time needed for pumping or expressing. 
When frozen, the breast pads can be used as an ice pack to help offer relief from engorgement, pain from inflammation, mastitis, blocked ducts and overall discomfort resulting from breastfeeding. 
Perineal Relief Spray
Peri Spray - For assistance in postpartum cooling relief. Spray onto the perineal area post-birth for relief. This spray contains Aloe vera for cooling relief and must be stored in the fridge. Contains- Lavender, Geranium, Frankincense essential oils, witch hazel, Clary Sage, Aloe vera + distilled water. 
Soothe & Relieve
Perineal Spray is formulated specifically for the delicate skin of the perineum. It comforts you from itchiness, pain, discomfort and soreness. It's a total solution to keep your perineum healthy, moisturised and nourished - helping you recover from childbirth, and is one of our favourite items in our postpartum kits. 
Mist as often as needed, especially after bath or toilet use.
Perineal Preparation Oil
Using oils in perineum massage before birth can help reduce the chance of tearing during birth. Start massaging from 35 weeks daily. Using a few drops, massage the thin skin (it will become thicker and less sensitive) on the lower rim of the vagina with the index finger and thumb for approximately 1 minute. Whilst massaging, concentrate on relaxing your mind, body and breathing deeply. Contains - Lavender and frankincense essential oil, and fractionated coconut oil. Post-birth use- Use on stretch marks or dry skin 
Disposable Postpartum Underwear  
Please note size Medium is 75-110cm waistline
Please note size Large is 110-140 cm waistline
Disposable maternity underwear that eliminates the need for uncomfortable, awkward pads in your postpartum journey. These are your answers to comfort in the post-birth period. You can even wear them when your waters break! Endorsed by midwives, you know this product is a hospital bag essential. 
Nipple/Dry skin/C-section scar scream 
Protective — Nourishing — Moisture-locking
This intensely nourishing and protective barrier cream in our postpartum pack can be used on both adults and babies. Contains an exclusive blend of nourishing botanicals designed to protect your baby's delicate bottom area from excess moisture and support skin healing.
Mum & bub's skin is calmed, nourished and protected, including soothing action on irritated nipples and restored baby bottom skin.
Please note that nipple cream may be substituted for differing brands but the same type of product, depending on availability.  
Organic Reusable Bamboo Breast Pads
Buttery Soft Organic Bamboo against sore nipples, these breast pads can help prevent any leaking in your postpartum recovery and bring extra support to your body. 
A must-have for the nursing mom! The breast pads in our care kit are a perfect environmentally friendly alternative to disposables.
Raspberry leaf tea
Research has also found that women who drink red raspberry leaf tea regularly towards the end of their pregnancies had shorter second stages of labour (pushing stage) than those who don't. Raspberry leaf tea is an excellent relaxant in our postpartum kit and a functional element to help when it comes time to welcome your new bub into the world. 
You can continue to drink this fantastic tea after the birth, too. This nutrient-rich herb can be continued postnatally. It can assist with reducing blood loss, toning the uterus and supporting breast milk production. Please note tea strainer inclusion depends on availability.
As with any herbal remedy, you should first consult with your doctor.
Support Wear shorts 
For Size reference, please refer here 
Made from nylon and spandex, our support wear shorts are super soft and breathable against your skin with built-in support and compression to help heal and recover after childbirth. The mid-section gentle and targeted compression helps postpartum conditions such as 
- Lower back Pain
- Abdominal Separation (Diastasis Rectus)
- Perineal tearing and episiotomy wounds
- C-Section Wounds 
The gentle compression from wearing our support wear shorts provides support to stretched-out abdominal muscles, helping your uterus contract, helping rid your body of excess fluids and helping pull your hips and ribcage back into their pre-baby position. The postpartum support wear in our recovery kits can also aid in back support, help with muscle memory, provide support during breastfeeding, and decrease pressure on the back and legs. This will ensure your body gets the support needed after your child's birth. 
Healing Witch Hazel Wipes
Nobody wants to wipe with toilet paper down there when it's all swollen and tender. That's why we added these wipes in the postpartum recovery kit. You won't want rough toilet paper near your lady parts post-birth! These specifically formulated wipes will be a welcome relief. Lay them on top of pads or your disposable underwear for extra cooling relief.
Please patch test before use.
Postpartum Herbal Sitz 
Postpartum magnesium and herbal sitz bath soak with organic dried chamomile, sage, yarrow, lavender and calendula.
The perfect addition to your postpartum recovery kit. A beautiful herbal sitz to nourish, heal and restore the body after birth.
This is great for relieving pain and tears associated with birth, acting as a beautiful herbal remedy to help reduce inflammation, ward against infection and is great for relief in the bruising and swelling of muscles after birth too.
Directions - Put the desired amount into a muslin drawstring bag or straight into the tub.  Pop it into a warmly drawn bath and use it in the postpartum period for healing. Can also be made into a cold brew used in a peri bottle to soothe between the legs for use after birth.
---
Free shipping on orders over $24
Free EXPRESS shipping on orders over $99
Labour Prep and Postpartum Recovery Box
Quality
Rated 4.9 on a scale of 1 to 5
Design
Rated 4.9 on a scale of 1 to 5
Comfort
Rated 5.0 on a scale of 1 to 5
Well worth it

This box was a lifesaver. I initially hesitated about buying it but I am so glad I did! I'm 5 days post partum and have used most of the products in the box and plan to use the rest in due course. My favourite and most used items so far are the witch hazel wipes, hot/cold compresses, and disposable underwear.

Great box

This box has all the essentials and has all been very useful. The wipes and spray especially. The soak is lovely when I eventually got a few minutes to use it. Have since used the ice packs for other bumps and bruises as well.

Everything I needed in one place.

I gifted one of these to my bestie for her birth and then decided I needed one for myself too. I used every single item in this box in my third trimester and postpartum and loved all of it. The ice packs for bra and underwear were essential for my recovery as was the peri bottle and witch hazel wipes. I also added the birth comb which I used for my ECV and labour and recovery tights for postpartum and couldn't recommend them more. Grateful that I could get it all in the one place and that Bubbabump thought of everything.

Very convenient

Fantastic deal to obtain everything from one place instead of shopping from different sources

JR

Fast delivery

Thank you, this was fast delivery and neatly packed. Products are excelant condition.
Reviews Loaded
Reviews Added