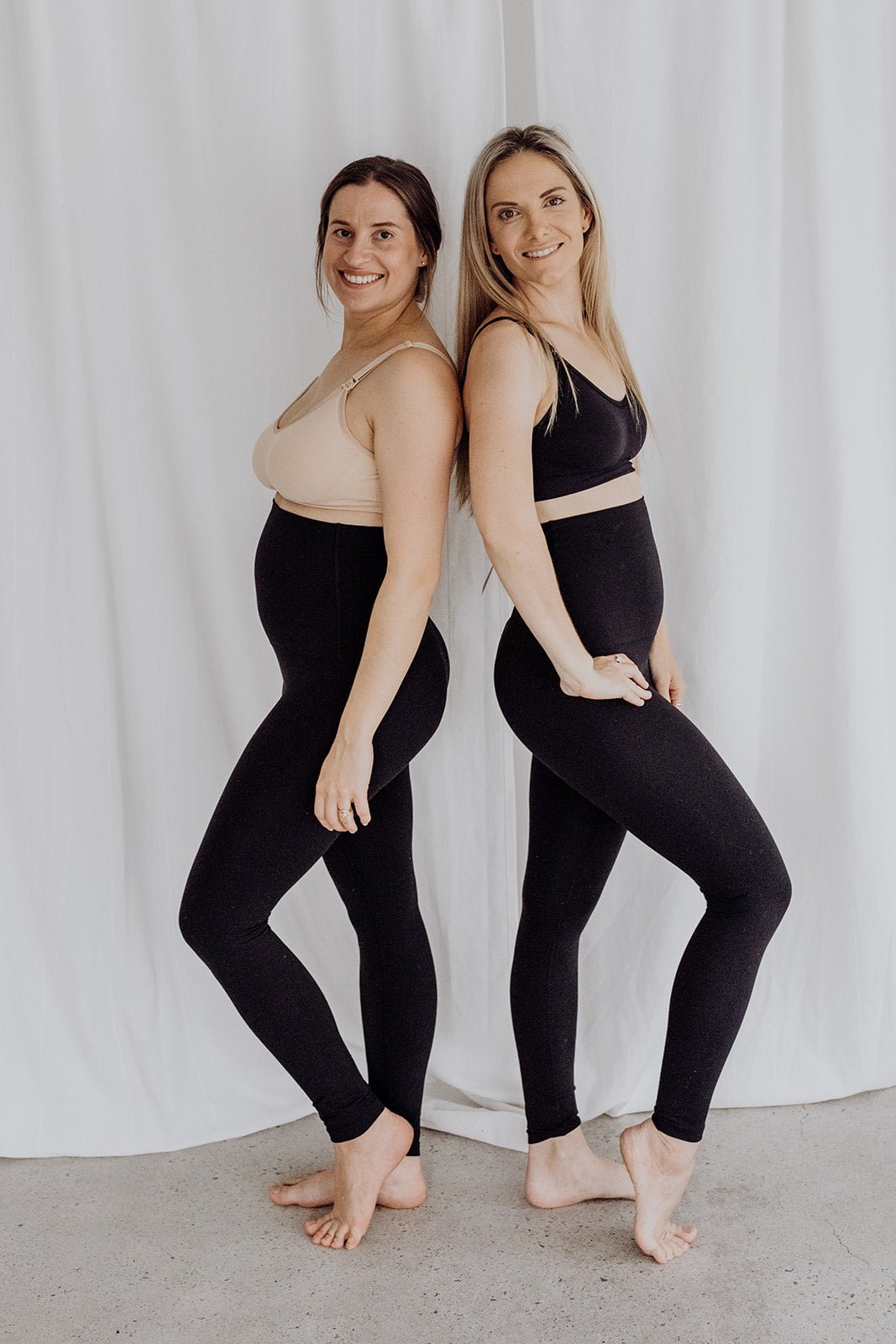 Maternity + Postpartum Support Leggings
At Bubba Bump, we believe that every mama deserves support during and after pregnancy. That's why we've created our Maternity + Postpartum Support Leggings, designed to cater to all sizes, including plus sizes.
Buttery Soft to the touch and so comfortable, our maternity and postpartum compression leggings will feel like you are wearing a cloud, our crowd-favourite leggings will have you wanting to live in them throughout your pregnancy and beyond.
Support Throughout Your Pregnancy and Postpartum Journey
But there's more to our best-selling maternity leggings than just comfort. They're thoughtfully designed to provide support during your postpartum phase as you heal and recover from childbirth, whether you've had a vaginal birth or a C-section. With a high-waisted design and made from Nylon and Spandex, you are in good hands when it comes to comfort and support. 
Our maternity and postpartum leggings have a specially designed panel to support and fully cover the baby whilst you are pregnant and still offer support once bub is earthside and you are recovering. 
Balance Stretch and Support For Your Body's Recovery with Our Maternity Leggings 
Our unique full-length maternity and postpartum leggings give you the perfect balance between stretchable comfort and supporting fit. They don't won't ride down under your bump, meaning you can strut in confidence throughout your day. 
Gym, Coffee, lazing on the couch... no matter what the occasion is, our maternity leggings are what you need, want and crave. You will want to live in them... word on the mama grapevine is you better grab 2 pairs!
To make life easier for busy mamas, our postpartum leggings are completely machine washable (on a cold cycle) and hassle-free to air dry.
Experience the ultimate in maternity and postpartum comfort and support with Bubba Bump Maternity + Postpartum Support Leggings. Your journey to motherhood just got a whole lot comfier.

Don't forget to browse our range of postpartum recovery products, from recovery boxes for the perfect personalised gift to recovery support wear, postpartum sitz soak bath to our recovery power trio, and more we have everything you need for your healing journey with your new bub.

Please note sizes are very standard. Go by pre-pregnancy sizing unless extra weight has been gained (completely normal) - if so, size up
Our beautiful Brunette Model Anja wears a 10, and our beautiful blonde Model Zoe wears an 8.
---
Free shipping on orders over $24
Free EXPRESS shipping on orders over $99
Maternity + Postpartum Support Leggings
Quality
Rated 5.0 on a scale of 1 to 5
Design
Rated 5.0 on a scale of 1 to 5
Comfort
Rated 5.0 on a scale of 1 to 5
My daily tights postpartum

These are the comfiest postpartum tights and my best friend currently. Comfortable while holding everything in but not suffocating me. I just wish I had more pairs of them. Love.

Amazing!

I bought a pair of these to try initially as maternity wear, wanting something comfy and with extra support. Then I bought another pair, and now I'm on to purchasing my third because two just isn't enough to cycle through. These leggings are SO comfy and supportive, and at 37 weeks I'm looking forward to wearing them postpartum as well.

Amazing!!!

These post-partum leggings are just the best. They feel so nice to touch, and have a good amount of firmness to support you post c-section
Reviews Loaded
Reviews Added